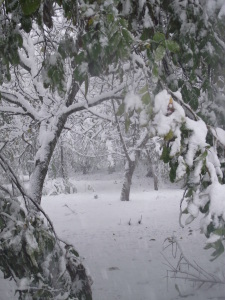 I returned to being a five year old again this last week as the first snowfall hit our village – we had around 10 inches in total, some areas had more and all they predicted was snow flurries…I'd hate to see it when they predict a blizzard!! Well it made the house and garden look lovely for a while as it covered up all the crap we have lying around, but also broke a couple of trees at the bottom of our field, which still need to be cleared up properly – they were plum trees of which I have lots so no big loss, just I probably wouldn't have chosed those ones to take down.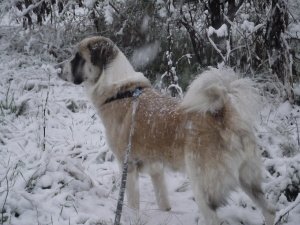 The dogs (especially Kia) loved every minute of it – jumping through it, rolling in it and chasing snowballs, generally being a puppy again (even though she has just turned three) – after the sadness of losing Diesel it was nice to see the others having so much fun.
Oh and then there is Barney – remember him, the little bedraggled, matted and emaciated fellow that turned up on our doorstep – well he has had all his vaccinations, been castrated, transported over to the UK and is now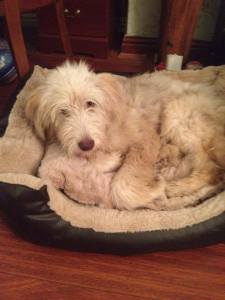 on trial with his very own family. I am so pleased I was able to do a little to help this lovely little guy and cannot thank Twitchy Noses enough for doing the rest…now its up to Barney and I have every confidence in him settling in just fine.
As you know we are still living out of boxes and bin bags here and until our rooms upstairs are finished this will continue to be the case and that is just fine until you get invited to a Halloween party (costume required) and having spent all the run up to it running backwards and forwards to vets surgeries (there's nothing like the loss of a pet to make you completely paranoid about the ones you have left) giving yourself one hour to get bathed and dressed…as what?
I did wrestle with the idea of going as a pumpkin as I had a particularly nice orange skirt that I wanted to wear – an orange "kangaroo poo" t-shirt – and some sort of mop on my head. I figured nobody would know what I was supposed to be so canned that! My neighbour had already mentioned she was going as a ghost so that ruled out throwing a sheet over my head (and once I saw her effort I could never have competed anyway) so in the end I opted to go as a witch – I got to wear my orange skirt (which incidentally I have not been able to wear for some time due to excess baggage in the tummy and thigh area (for that read – being too fat)) so I was extrememly happy about that. I put a long flowing black thing over it to represent a kind of cape and then shoved a funnel inside a beanie hat to great effect (even if I say so myself).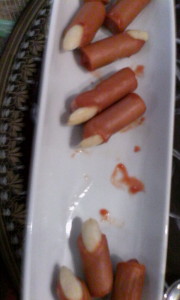 What I wasn't expecting was the absolutely incredible effort that Olia and Vlodia had gone to in all aspects of the evening. They had dressed their house brilliantly with cobwebs, spiders, balloons, rats and mice. They
had created spooky food – severed fingers (sausages and nuts), worm ridden sausages (black spaghetti wound through them), eyeballs, worm infested pudding, rat infested cheeseboard.
Christine brought over games to play, which took me back to my childhood as we dunked for apples then snuffled for chocolate treats in a tray of flour – the picutres speak for themselves, the costumes were fantastic, the food and decorations amazing and the company just perfect.
The evening was rounded off by watching The Addams Family – amazed I'd never seen it, but it was just the right amount of gruesome comedy to finish on – all this washed down with a fair amount of wine and vodka and a short walk (stagger) back to my own house.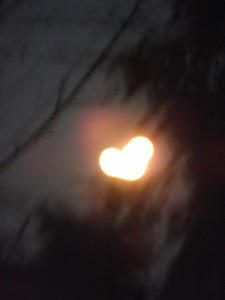 And to make things even better this week – Dan set off back home yesterday – I can't wait to see him, it has not been the easiest of times since he left, but I hope that things return to normal once he's back!!
Join me: