Well what has been happening since my last blog? I think you can safely say that whatever it is, it has mostly involved drinking some form of alcohol. It seems that the Bulgarians need no excuse for a party although they seem to dream up all sorts of 'reasons to be cheerful'.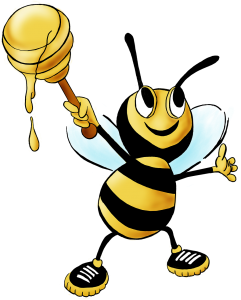 First there was a party to celebrate the bees and their honey, which we missed as we were busy rescuing a puppy from up near the Romanian border and bringing her home to her new family. Lily is a Standard Poodle cross Old English Sheepdog and her current family couldn't keep her anymore, friends of ours jumped at the chance to offer her a new place to stay and so she has joined their St Bernard puppy and Golden Retriever…it is great to see them together now, Lily is the boss and loving her new found freedom and being spoilt rotten…
One good deed deserves another as they say and when we got home our beekeeper neighbour popped round with a large jar of his own honey as we missed the day…how lovely.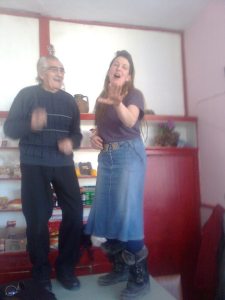 Secondly on the 14th Feb – Valentines Day…I tend to be a tad cynical about this day, to the point that I'm actually not sure it is a day at all and more created to help global economic recovery 🙂 However all that has changed, no I have not fallen madly in love with a tall, dark, handsome stranger (I already have one) it's just that the Bulgarian's do things a little differently here. Valentines Day here is the day when the villagers are traditionally supposed to open their homemade wine from the previous year…now we're talking my language!! Although I'm sure they didn't all wait for this day to arrive, I'm equally sure that they still had enough to go around as we started the celebrations at midday and by two o'clock I was dancing on the bar! That was one helluva party and we suffered for it the day after, well I say we…for that read – I had a hangover to challenge all hangovers, Dan was fine (but then again he wasn't on the bar…I blame the altitude).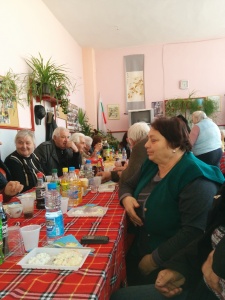 The 1st March comes along and yet another party – Baba Marta – Granny March…a great name for another excuse to drink copious amounts of wine and rakia and dance the afternoon away, while believe it or not the sun shone brightly outside, I'm starting to really love this country, its traditions, its weather and most of all its willingness to include us (two simple Brits) in all their fabulous celebrations – thank you Bulgaria!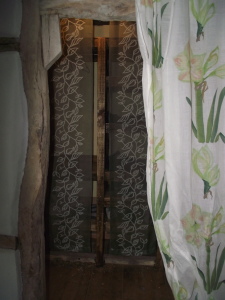 In more sober news, the wardrobe is just about finished, just needs some name tags for each of the sections – am thinking of burning the names into pieces of reclaimed wood from inside the house as it was…think they will look funky and fit with the overall design…this is assuming of course that my aptitude for imagination is not too much greater than my talent (I fear it may be).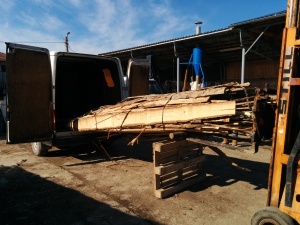 We have also started work on the dog pen, we have sourced the wood for the panels…in fact we are using the outside strips of bark that the woodyard would normally scrap – again I think this will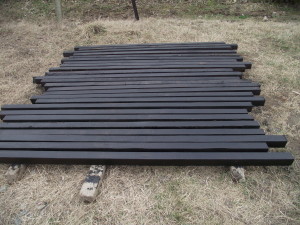 keep the rustic feel – the fence posts have been painted in old engine oil, that we managed to blag from a local garage for free, that will perserve them against the weather. They have been placed in the holes but have yet to be concreted in place – our next task.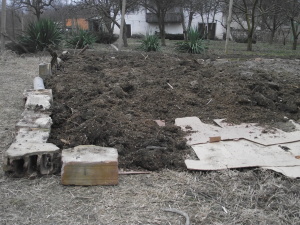 With the beautiful weather we have been having it has been full steam ahead with the garden, trying to get at least a small part ready to plant up once the last frost has disappeared off the weather forecasts – all this news and progress is on my sister site 
www.garden2plate.com go take a look if you haven't already – oh and there's a caption competition in this month's newsletter where you can win a copy of Chicken Hot Topics that I reviewed last week…get your entries in before the 21st March to give me some time to choose a winner…which will of course be announced in March's newsletter (you see how important it is to be signed up)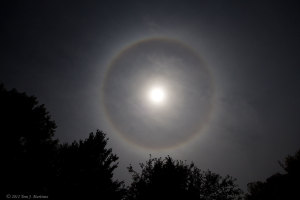 Everything here seems to take longer than it should and time seems to go quicker than it should so I've stopped planning and started to try and go with the flow, it is a massive step away from my corporate life, but I'm finding it refreshing…although I do drift back occasionally, like as I write this I have a little guy on my shoulder saying "you've got visitors coming…gotta get the bedroom and kitchen finished" then the sun shines and I find myself inexplicably in the garden…what I really need are visitors that can tile…
Until next time,
JD
Join me: