Cold Exposure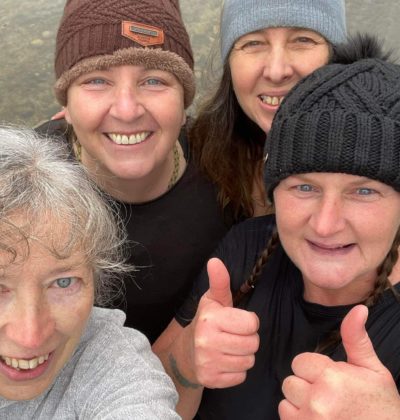 Hello my wonderful friends and followers! I wanted to write this to give a little insight into The Wim Hof Method and Me and show you some of the things we are doing.
As I explained in my It's A Fine Line blog, I started doing The Wim Hof Method to work on getting back to being happy, healthy and strong. It works on three main pillars: Breathwork, Cold Exposure and MindSet.
I started with cold showers, nothing too mad, just taking a normal shower then flicking the temp all the way off for the last 10 secs. Progressing over the weeks until I was doing 5-6 minute ones. Starting with a cold shower rather than a warm one and loving the feeling it gave me.
It was a mix of feelings really. Physically it took away my pain, reduced inflammation, but mentally was the most surprising. It made me feel elated, accomplished, like I'd taken on a major force and beaten it in such a way that I came out grinning and full of energy.
I found myself craving more so I decided to start cold water dipping in the wild. I'm surrounded by rivers and lakes so what was stopping me?!
When I started I only managed waist deep, but I got that same rush of energy that the showers provided and for me, being out in nature was just the best… but I wanted more people to feel what I was feeling. I put a shout out on Facebook to see if there were any other women that would like to join me and was absolutely amazed by the response.
Wild Women Bulgaria
This is how Wild Women Bulgaria was formed. We currently have 14 members in our little group. Some are not here until spring, some are too far away to join in regularly, but a few join me in my madness. The chatter, the big smiles, the cries of release as they conquer their own minds and the exhilaration and energy that comes out of our group sessions says it all. We all come away buzzing!
If you are a woman in Bulgaria (regardless of location) and would like to join our little group – send me a message and I will invite you to the group… honestly you don't know what you're missing.
I'm hoping when more people are here, we can do more, maybe some overnight wild camping and wild swimming to include those that are a little further afield, watch this space.
Birthday Dip
Yesterday was my birthday – 56 years young.
The air temp was -7C with a real feel of -12C due to wind chill. I really wanted to go for a dip and two of our group put their hands up to come too. It was the most amazing morning, icicles on the rocks around the waterfall, the river frozen solid en route, and coffee and cake.
The best birthday in a long time and firmly leaving 2021 behind me.
But me being me, I wanted to do more!
Daily Dips For Dogs
That's when Daily Dips for Dogs was born. Everyone knows that February here in Bulgaria is often the coldest month. This to me represents a challenge. I have committed to go into the cold rivers around here every day, for 28 days straight, regardless of the weather.
Cold dipping every now and then is amazing, but 28 days straight will definitely be a challenge for me, to maintain my motivation, to conquer the cold and to not frighten the fishermen.
I am doing this to raise funds for two dog rescues out here. Maxime's Rescues and Little Angels Rescues. Go read about my challenge here: Daily Dips for Dogs.
Join me: