As you know we ended up with four houses in Bulgaria  – this is a little about how that happened!
Like our friends Andy & Marie who run The Good Life Bulgaria blog we bought our first house off ebay, basically because it was cheap and I fell in love with it (see pic above). We flew out to bulgaria for our first visit and when we saw it in real life we were even more smitten – right on the edge of the village and our neighbour 'Nidelka' and others in the village made us feel so welcome. There was plenty of work to do but our dream was taking shape!
During our visit we heard of another house in the same village for next to nothing…it would have been rude not to and it would have given Dan somewhere to put his cars (we have lots of cars) – so we bought that too (see pic below) – not the best picture but it was so overgrown it was the best we could do… 🙂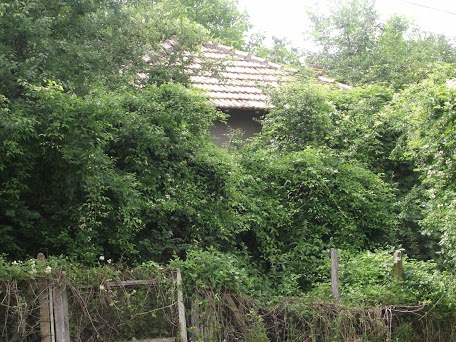 Our thoughts were that we would spend the 9 months of spring / summer / autumn farming the land and enjoying village life but in winter we (more me actually) would like a mountain hideaway where I could get away from it all – I'm a bit of a secret hermit and enjoy the isolation for small amounts of time anyway 🙂 So on returning to the UK I set about finding us our mountain house…this is what I found and what we bought…completely off grid with a view that you couldn't buy…bliss (see pic below)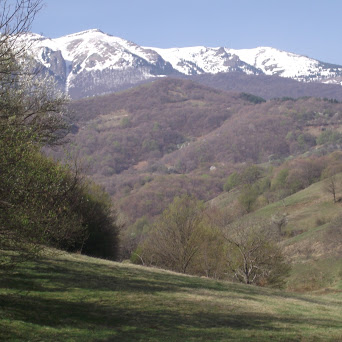 We set to putting in a gravity feed water system and our good friend at Sewage Solutions put in a septic tank for us – all we needed was to make it warm and comfy…our winter hideaway was taking shape. I transported over a log burning sauna heater and a load of log lap wood to build a cabin (unbelievably cheaper in the UK) and a load of tools to do the work – we were so excited! And this is where it all started to go a bit wrong….
When we returned, all our tools had gone – the house is about 2km from the nearest road and they took everything except half a cement mixer and a couple of log burners (obviously too heavy)! This clearly wasn't meant to happen, but things got worse, when we visited our village house all our mature fruit trees in our orchard had been cut down to stumps.
The tools were a hard lesson but we could at least understand the motive, our beautiful trees were something different, it felt personal even though there was no reason for it to be, but more than that it felt utterly pointless. I sat on the steps of my wonderful house and sobbed .. someone had just ripped my magic carpet out from beneath my feet.
If I'm honest, I never thought I'd be back…but in the words of Janet Street Porter – "Don't let the Bastards grind you down" – so I didn't, but we did decide to start again in another area (hence house number 4). And this time we did things differently, this time we travelled the country, viewed around 30 properties of all sorts of prices until we settled on our future home, we took nothing to the house, left nothing in it (therefore nothing to steal) so when we arrive in April we will be starting from scratch and we could not be more excited, we have so many plans and we will share our successes and mistakes (please let them be few) on here so that friends (old and new) can share in our journey to the simple life! This is our future home (pic below)
Join me: