This is the hardest blog episode I have ever had to write and that is why I have delayed it a little, to give me and my heart time to recover. You see at noon on the 11th October we lost our little man, Diesel, to a disease we had no idea he had. He had carried no symptoms for the six months plus that he had been with us and in fact showed now signs of illness at all until Wednesday afternoon when he was a little off colour.
Dan departed for the UK on the following day and I promised that if he wasn't any better by Friday that I would take him to the vets. Friday morning came and he was as perky as anything, barking verociously at our builder (his favourite game) and playing with Kia, but when I came to walk him in the afternoon he just lay down and refused to move. Now he may be a seven month old puppy, but he still weighed around 30 kilos and there was no way I could get him to or into the car, so he lay down in the lounge and I called the mobile vet.
He came at 9.30am the following morning and took blood for tests – the results came back positive for Ehrlichiosis a tick borne disease at 1pm – he died in my arms an hour earlier. Here we are 12 days on and I still blame myself for not doing something differently and there is nothing that anyone can say that will make me think differently, however this little man loved his life (however short) with us and we loved him and whatever happened, whatever mistakes were made, his time with us was definitely preferable to him dying alone, cold and hungry in the box where he was found.
In time we will get another puppy, probably in spring as winters here can be harsh. The new puppy will be a new playmate for Kia, as she has been grieving hard over the loss of Diesel, and will be a new addition to our lovely family, it will not be a replacement for our little man as I don't think we will ever find another like him, he was so unique.
He arrived terrified and covered in fleas, bonded with Kia instantly and decided very quickly that anyone that wasn't me or Dan was to be defended against. He was fiercely loyal, extremely protective and loving – I will always miss his Diesel kisses and his enormous front paws (usually muddy) in my lap first thing in a morning. RIP little man!!
As everything in life that comes to try us, you have to push through it and move on so having taken a couple of days out to cry, wail and generally state how unfair it all is, I have since kept myself busy. I got the opportunity of some work dismantling a barn and jumped at the chance, it got me away from the house and it turns out that hard physical exercise is a great coping tool – it's not doing my back that much good though. So we have removed and stacked about 2000 tiles from
the roof, taken off all the lats and rafters and removed nails from any of the good, reuseable wood. The banter has been good, the music has been terrible but the beer at the end of the day – pretty much essential.
Work has not stopped on our place either – Dan had finished floorboarding the upstairs prior to his departure, so I have started the sanding process – the main bedroom being my priority as I have a resident mouse in the room I have been sleeping in – actually I'm probably kidding myself it is just the one! So having sanded the bedroom I moved our spare mattress up there and set some traps … I don't appear to be an expert in mouse catching as the traps (4 nights on) are still set and being completely ignored… I do like my new room though as you can lie in bed and look out at the stars, it is stunning.
I have also been out a couple of times, once a treat from friends, which was most kind although I think Kia ate more than I did and then again to Trafalga Day celebrations with our Russian friends in the village, where once again Helena outdid herself with the selection of food and drinks available, the company around the table was fabulous…although I think I may have talked a little too much yet again!!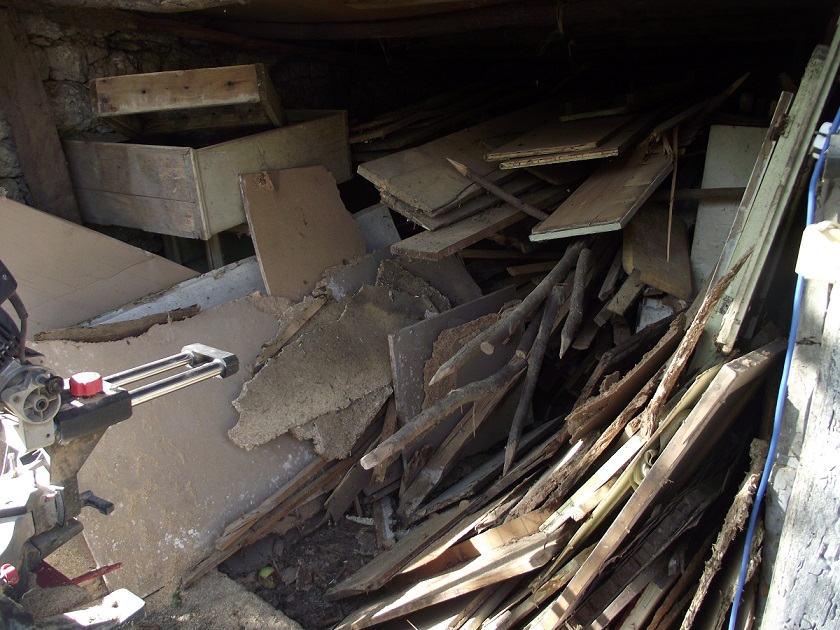 My next task is to empty my 'crap' wood shed, chop it all up for kindling and stack it in with the 'good' wood next to the dog pen – I have started this task but despite a whole day of working on it, you can hardly tell I've touched it…I think it may be a bigger job than I had anticipated.
Ah well as you see life goes on and the work doesn't go away, but today is raining and the temp has dropped by double figures, so I've lit the fire in the kitchen which feeds the radiators and stuck a sausage and pork casserole in its oven…my first meal on my new stove and it is looking pretty damn good even if I do say so myself. (Oh my God I've just tasted it…you really should be here, it is delicious)!!
so onwards and upwards – I will spend today transferring this blog from this address to a new location so it is also 'goodbye' to wordpress.com – let's hope I don't cock things up royally and lose everything…keep your fingers crossed for me and see you on the other side.
JD xx
For all my book recommendations and things I'd really like to get time to read – check out my store at Amazon.com – this is an affiliate link, which means it costs you nothing more than if you went without me, but if you take me along I get a little something back from Amazon (not you) so thank you for shopping with me!
Join me: