Well not exactly a well, but we do now have water! It has been a long time to sort out but a real blessing and such a delight to just be able to turn on the tap, even if it is just outside for the moment…it certainly beats carrying water from the spring on a daily basis!!
And that's not the only thing – our septic tank has arrived (Bertha), we have hand dug the hole for it to go in, well if I'm honest we half dug the hole for it to go in.
Then in typical English woman style decided it was too piggin' hot to be digging holes and drafted in some help from the locals…this should arrive Monday. This hole is not the only one we have to dig either (as if 2 x 2 x 2.1 is not bad enough) we have another that is 4 x 4 x 0.8 and a channel from the bathroom to the tank… yeah who said this was going to be easy!?
While I've been half doing a job, Dan has been working tirelessly alongside Ashim to firstly take down, then rebuild the barn wall and it is beginning to look like a wall again.
Ashim is a great character, he carries all his tools to and from our house (a six kilometer round trip) on his bike…until one day his bike broke down so he turned up on another one with flat tyres…I'm not sure what was wrong with the first one but it must have been pretty terminal…so now he uses my bike until he can get his fixed…aparently at the weekend but this is Bulgaria so watch this space!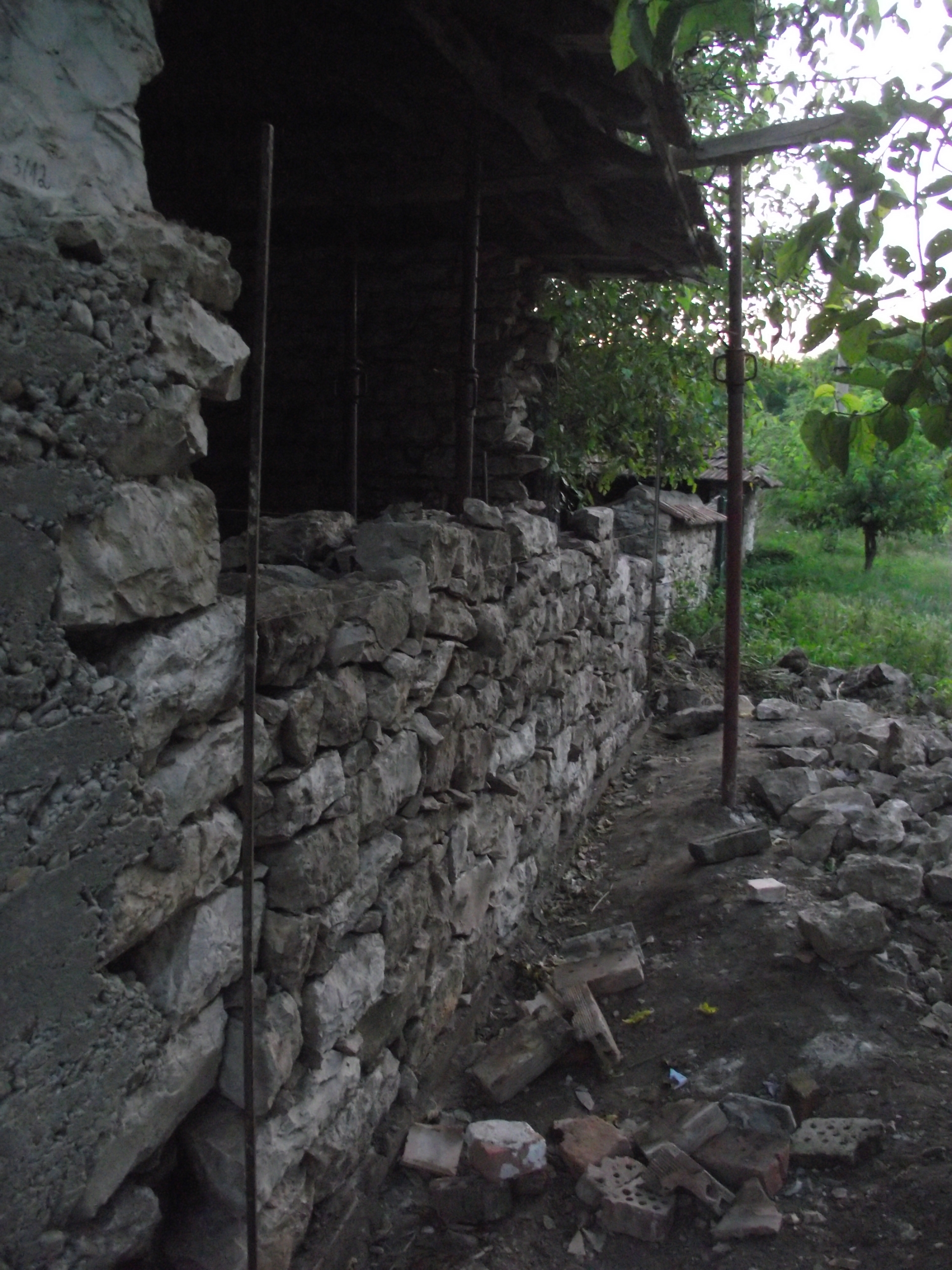 Rebuilding the wall has been a delicate operation with the roof held up by agro-props and each stone carefully selected and shaped to fit the relevant position. The two guys have worked well together and next week I would anticipate us having a boundary wall again, which would be nice to feel secure again!!
That's a laugh, religiously we have brought all the tools into the house and put the dogs in the room with them, locked the front gate and padlocked the house, only to find out today that the key to the main gate is apparently a key that everyone has and so anyone can just walk in…so after nine weeks we discover that we might as well leave it all open with a flashing neon sign to lead the guys to anything of any value…mind you they still have to get past our dogs (please anyone in the UK that knows our dogs … stop laughing now!!) At least they look and sound the part…
After five weeks of hassle we finally got a visit from the Electricity man who promptly asked for a bribe to hook up our electric within 3-4 days…and in true English woman style I told him to bugger off and find another mug to pay him… yeah right, after nine weeks with no electric and eight with no water I shook his hand and said just 'do it'…they are coming on Tuesday to connect us…worth every penny!!
June seems to be the month to get things done, we are also expecting by the end of next week to take receipt of our new double glazed windows and doors, all with flyscreens to keep the little blighters out of our rooms. It has been an unusually bad year for mosquitos due to the crazy amount of rain we got in May, the place is so humid you'd think you were living in the tropics…you only have to step outside the door and you break into a sweat. The thunderstorms here are impressive though, the whole sky lights up, not just for a millisecond but for two or three seconds at a time and the thunder sounds like the sky is splitting apart…real weather!
As most of you know we have been showering (and bathing) at neighbours, in our garden or with friends in the next village, but June is also likely to provide us with our very own shower room – all the drainage system has gone in, the plasterboard is here on site along with more bags of cement than you can shake a stick at.
So this imminent we have been running around trying to buy a shower suite, which cost us all of about £70, a boiler and a log burning 'do it all system'… the latter being the most difficult and requiring both some compromise and a repair to the Suzuki tyre…yes we got our first puncture on the side of the road having picked up a 10mm piece of metal and the spare wheel being more ornament than use…a local tyre man came out assessed the situation, picked up some tools, took the tyre away, mended it and refitted it…all for around £4.50 – yes we had to wait a while in stifling heat but it was better than calling out our friend all the way from Mihaltsi to come and rescue us…20kms away…surely we wouldn't have done such a thing… I feel another meal at Stefan's coming!! (please note I did turn him back once I'd found a tyre man…but still have him on speed dial LOL)
But away from the house renovations there has also been an extraordinary interest in Dan's BMW – tonight being a case in point when the local shop keeper brought someone down (in a BMW) to look at it and go our for a spin…suitably impressed I'm sure it will only be a matter of time before more arrive at our door. There is a guy in the village nicknamed 'The Baboon' that tears around in his BMW that he keeps going with tie wraps, rivets and some sticky-backed plastic and apparently annoys the hell out of his neighbours by playing loud bassy music and spinning his wheels late at night. This same guy comes past our house, waves nicely, toots his horn and generally keeps both speed and decibels to a minimum around us…I wouldn't want to get on his bad side though as I could end up with two Dan's, which I'm sure everyone could understand is just one Dan too many 🙂
Tonight we have yet another Russian celebration, this one a little more personal as it is Helena's birthday so the usual routine, Christine's for a shower (what would we do without her) then next door to Tim and Helena's for vast quantities of Vodka…thank God Sunday is a day of rest….
Till next time….
Join me: