If you follow my facebook page of the same name you will know that my good friend and neighbour came back from a stay in France…she is the perfect neighbour – we chat over emptying wheelbarrows (she with grass cuttings, me usually with rubble of some sort) and laugh and moan about our own incapabilities for one reason and another.  I never thought though that she paid too much attention to my ramblings, but on her return she brought with her a gift for both me and my Dan. For him an old oil can, I don't think anything more appropriate could be found on this earth as lets face it if the choice was between me or his BMW all I can say is, I
hope they'll be very happy together …and for me…she brought cheese, lots of cheese, something tells me she was paying attention!! You see Mr Royce all those lessons on 'learning to listen' and all you needed to do was bribe me with Camembert and I'd have listened for hours (probably with my mouth full though).
This lady has now gone back to France to stay with her son for a while as she is not very well, not that she'd ever admit it as she is a stubborn old fool and I'm sure I'll be just like her (well I hope I will), if I make it to her age!! She left me with a small painting by a friend of hers of the back of our house seen from her garden…how lovely is that, I will cherish it always and make sure I get it in a frame and up on the wall before she gets back and tells me off…hurry home Shirley!
We have been busy on the house as always, although the weather and a broken toe (mine) has slowed us down a little, but we have finally got all the posts concreted in place for the new dog pen and have started filling in the gaps. It is massive and will incorporate a sandpit, a covered lockable section and lots of open play space so they can have some freedom whilst we potter about the garden without us worrying about them escaping over the wall and killing the local chicken population…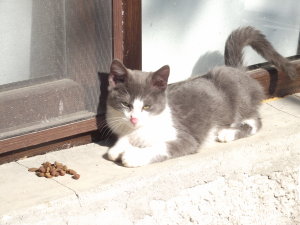 Our family had increased by one as another kitten decided to move in – he was in an awful state, but we fed him up and he slept with us every night snuggled under my armpit (he must have been really desperate), but after just a few days this little boy we named Oliver decided to stop eating and just upped and left…he was very weak so we assume he has gone off somewhere to die as despite hunting high and low there is no longer any sign of him. So sad but also at least he experienced some love for his last few days…
Weather wise we have had it great to be honest, there have been days where we have been working in our t-shirts in the garden and others where we have lit the fire and snuggled up in front of it waiting for the pipes to defrost, but all in all it has been a very mild winter and spring should soon be here! I can't wait to spot my first stork just so I can remove my martinitsa (little red & white bracelet) and hang it on a tree…oh yes this is Bulgaria where this sort of thing is quite normal and not only am I playing along, but I'm actually afraid to take it off in case my fruits are not
bountiful…read into that what you will…(since writing this I have been informed that I can remove it also if my trees are in blossom and since my big old plum tree is doing the honours, I am now martinitsa-less)…
Spring has finally sprung!!
Until next time.
JD x
PS. A winner for the Chicken Hot Topics e-book has been selected and will be announced in my Garden2Plate.com end of March Newsletter – if you're not signed up yet…you need to be 🙂
Join me: