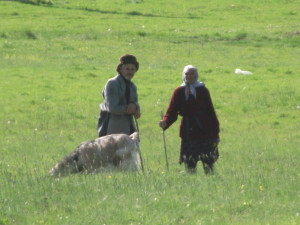 I came across a friend's post on Facebook a while back that got me thinking. It was a list of interesting places to visit, incredible events to attend and extreme things to achieve and the idea was you went through the list and ticked off what you had done and what was left was your bucket list …to do before you die.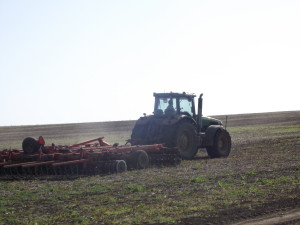 I'm not usually so obedient but thought it would be interesting to see what I'd done and what I had left to do…. Now when you take these sort of tests you can be left feeling two things: 1) Excitement for all the things left to do in the world or 2) Disappointed at not having done that much with your (in my case) 50 years on this earth. That is if you let the internet dictate how you feel about yourself…I don't, I just don't…so I started thinking of some of the things I'd done.
I have show-jumped in Europe (and won), I have learnt a new language, travelled to five out of seven continents, I have raced cars at most of the major tracks in the UK, have drunk champagne in the pits with famous race drivers, had media access at Le Mans for several years, worked as a DJ in a club, been to a baseball match in the states, climbed all of the mountains in the Lake District, hitch-hiked to the Isle of Skye, learnt to ski in Canada, driven a team of huskies across the arctic circle, scuba dived in exotic places, swum with dolphins in Australia and turtles in Barbados, played basketball in the World Corporate Games at Chrystal Palace, climbed Sigiriya, seen the Exmoor beast, rounded up sheep on horseback, seen some really good bands live in concert and some rubbish ones too and I'm sure many other things that I forget …but you see I  have lived, I have done a lot (not all of them well) and yes there are still things I'd like to do but …
I arrived in Bulgaria two years ago this Wednesday and now I'm not limited to the four weeks a year prescribed holiday and can (if I wanted) go anywhere, anytime I want, I find myself finding more and more reasons to stay home.  There is a contentment to be found in the dust of my house, in the muddy garden that is out of control, in the crumbling outbuildings, the biting insects, the aching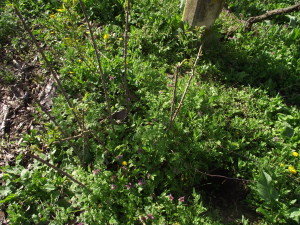 muscles, the nosey neighbours that don't understand I am still learning their language, the vegetables that seem to need different soil to the abundant weeds that grow so rampantly, the scorching heat, the snapping cold, the power cuts and lack of gravy granules.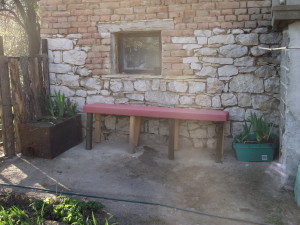 It just depends how you look at life, I have a vision for my house so in time the dust will not matter, I will take control of the garden and rebuild the outbuildings, the insects will become less as the garden is not so wild, my muscles will train to
take the activities I throw at them, my neighbours will become my friends as I learn to converse with them more effectively and they will teach me how to tend to my vegetables so they out grow my weeds and the weather….well I love the four wonderful seasons we get out here and the spectacular thunder storms that mean we  have to live without facilities for a while.
This is paradise waiting to  happen….except the gravy granules, I'm not sure I'll ever learn to live without gravy granules!!
So back to the online bucket list, there were things like – ride in a hot air balloon, sky diving, visit the Great Wall of China, go to the Mardi Gras in New Orleans…you get the idea. Out of 100 items I'd done about 10 and the others, although could be fun, are not really something I feel I MUST do before I die.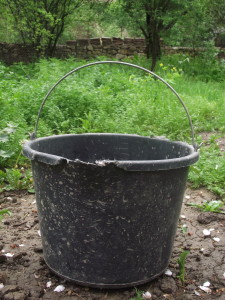 Heaven forbid I kick the bucket tomorrow, but if I do you can be safe in the knowledge that I've had fun and I've found my bucket…it is here in my garbage ridden garden, it has a hole in the bottom where I've planted something in the past and one of the dogs has chewed off the handle….but it's my bucket and I'm happy I found it.
Join me: