Isn't amazing how different we all are. One person's dream is another's nightmare. But and here's the thing, we all have dreams, ambitions, fantasies, call them what you will, but we all strive to be somewhere different, doing something differently, but few of us think about what it will take to get there and interestingly not many (if any) of us consider what it will actually be like once we arrive at our destination.
I certainly didn't!
Oh yes I was more planned than most – that's what I do…planning…I drive people crazy with it, but it's what makes me, me. But what I didn't do was think about what it would actually be like. I travelled through the country and looked at what seems to be a million houses to decide which one fitted the bill (by the way I bought three that didn't) and this is where I ended up…but I didn't talk to people living here to ask about the place, no, I just drove though this village one day and stated 'this is where I want to live' and so live here we do!!
I had great plans before I left the UK – we were going to offer adventure holidays, maybe team up with someone who did something similar that we didn't offer, to help promote both our businesses. We brought our go-karts, our kayaks, pottery wheels, soap and candle making equipment and know how…we had such great plans to run workshops and outings to make people's holidays something to remember, but we needed to make the house and gardens inviting and habitable first….and this is where we had to be both adaptable and patient.
Unlike many out here we are not pensionable age, we do not have a static income so we have to make our own way and do most things for ourselves, as although things out here are cheap, they are not free.  This is our little piece of paradise, but it has taken a lot of blood and sweat to get to the point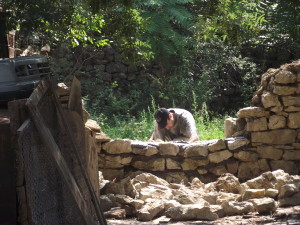 where we are now, please note I didn't say tears as these were notable in their absence – but if you want to live differently or change your life so dramatically then you have to be prepared to work hard for it.
But we didn't do it all by ourselves, we have had help from some people and great advice from others. We have met some wonderful characters and travelled most of the country delivering people's treasured possessions.
I go to bed every night with aching muscles, I roll out of bed in the morning groaning and stretching to motivate myself for the day ahead, but everything I do, I do for us, for our new life. It is invigorating, frustrating and oh so tiring but I wouldn't change it for the world. Even though I do utter the immortal words 'I'm too old for this sh*t' on an almost daily basis….
I say to friends. 'Why struggle so hard', 'why work such long hours just to pay your bills', 'you can do this too, this is freedom'…but as I said at the beginning, this is my dream and I am so very lucky to have someone to share it with as I am starting to understand that this is not everyone's dream, in fact for those dreaming of wealth, fancy houses and yachts and parties where the elite rub shoulders, this would be their worst nightmare.
The only shoulders I rub along with at parties are three legged chihuahuas,  immigrant horses and a whole host of insects and rodents that I'd rather not meet…oh and the occasional new human I've decided to interact with…and who incidentally drives the organised, planner in me absolutely bloody crazy…but I love her!
Well after all this hard work and the mad 'Sybil Fawltyesque' decision to take the barn down and move it a little to the left, we have taken another momentous decision…next April we will stop! Yes that's right this woman that found life here too slow, that couldn't switch off from the pressurised career of herding cats, is finally going to find out if she actually likes living here as well as working here. In April we will have been here three years, and we both think that's quite long enough. It is time to start enjoying our choices.
We have taken a broken house and fixed it to the best of our ability, we have a comfortable lounge, dining room, a kitchen, two bedrooms, a bathroom and a shower room. We have taken down a garage and a stone barn piece by piece and will have built a new garage. Of course there is still more to do – I want a craft studio, an office to teach from (that let's me feel like I'm still outside not locked in an office), a roof terrace, a natural pool, a sauna, an outdoor cob oven, some internal stairs and a number of different smaller projects…but they can wait. First we are taking a break.
I'm sure there will be a book run on how long it will take me to get bored, but I warn you I have a long list of fun stuff to do, so much so it may not look like I'm taking any time off at all…one of those things involves an old lady Lada called Brian. Yes that's right a girl called Brian. She was born in 1979 and has lived all her life with one family…until now, now she will be my companion while we explore the country we have chosen to call home.
So if you are thinking of visiting us, I think 2017 may be the year to do it and if you are thinking of changing your life (however that may be) then there is never a better time than now. I came across a great quote on the internet (of course) that you should listen to…'don't be defined by your past…make a brand new ending!'
Join me: